I took the day off of work and finally made it over to Bailey Motorsports to drop off my Triumph engine cases, crank, connecting rods, and cams to be run through the washer and get all of the oil and shit off of them. John Bailey, the guy that runs it out of his house/shop and has a full machine shop, said he can do whatever I need for him to do. So I am going to have him get my cams and journals in spec and maybe do some work on the crank/flywheel. Super nice guy and very cheap compared to other places I have checked out. I found out about him from a friend that had some work done by him and raved about what a good job he does.
Anyway, stole this off the JJ. Its inspiration, though I'm not building a show bike, I love the stance and overall look of this one...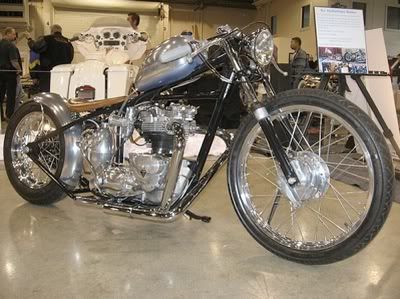 The bike is from the 2009 Grand National Roadster Show in Pomona, CA. Wish I could have been there...suck.